My Team
As a Wealth Management Advisor for Northwestern Mutual, I am committed to helping my client's - which means providing the best service possible.  I  have an incredible support staff and work closely with our Network of Specialists to ensure my client's financial needs are fulfulled utilizing the most appropriate and up to date solutions available - and their requests are responded to promptly.  
If you have a question or need assistance at any time, please let us know.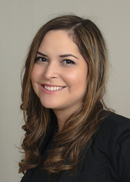 Stephanie Ospina
Associate Financial Representative
Office 540-370-1886

Although born in the United States, Stephanie grew up and spent most of her childhood in Valladolid Spain.  Stephanie returned to the U.S. for her formal education and graduated, with honors, from the University of Mary Washington in 2013, where she received a B.S. in Business Administration.  During her college years, Stephanie also pursued a secondary major in Spanish and she was admitted to Sigma Beta Delta and Phi Sigma Lota honor societies.
Stephanie began her professional career at GEICO as part of the company's Management Development Program in the Commercial Insurance department.  During the three years she worked at GEICO, Stephanie honed her client service skills and discovered a passion for building relationships and helping clients with their risk management needs.  Stephanie was thrilled at the opportunity to join Northwestern Mutual in 2016 as a member of Rob Billingsley's team. She is fully licensed in life and health.  In her spare time, Stephanie enjoys cooking up a storm and hosting dinner parties for friends.
How can Stephanie help you?
Schedule/reschedule appointments

Update client information

Address client inquiries

Process insurance applications

Schedule insurance medical exams

Supply quotes for life and disability income

Provide illustrations and policy values